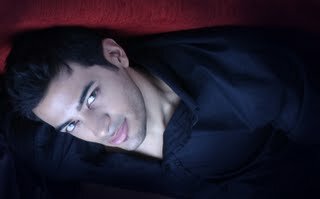 Born in Canada and raised in Paris, France, Abbas Hasan is the latest pop sensation to hit the Asian music scene. Abbas speaks French,English, Hindi and Urdu fluently, and his sexy heartthrob image has led to headlines such as "Lock up your daughters!" In less than a year of working with Rishi Rich Productions, Abbas has already released
two chart-topping singles, been named Bachelor of the Year by Asian Woman Magazine and made it to the list of top ten most good-looking
Asian male models in the UK.
But clearly that's not enough, as most recently Abbas was covered in national Indian press (Indian Express, The Hindu, Deccan Chronicle, etc) for starring in the controversial new south Indian film "Mazhavillinattam Vare" (Beyond the Rainbow's Edge), directed by two-time Filmfare Award Winner Kaithapram Namboothiri. The film features a league of Indian world cup cricketers. The film is due to release soon next year and Abbas stars as the lead. Since completing filming Abbas is back in London putting finishing touches on his hotly awaited debut album with producer Rishi Rich, known for his work with artists including Jay Sean and Britney Spears. The press are already calling Abbas Hasan the next big thing.
I caught up with the heart throb for an exclusive one to one interview with him.
Amer : What inspires you?
Abbas Hasan: My life experiences, travelling, films and music all inspire me.
Amer: What would you like to change in the music industry in Britain?
Abbas Hasan: The British scene needs a breathe of freash air and broaden it's horizons. I will try and be an innovator and bring my unique fusion of language to it..
Amer : Where do you see yourself in five years time?
Abbas Hasan: I see my self taking over the world! I want to do this through my art and want to inspire people and motivate them both emotionally and physically..
Amer: Who are your competition?
Abbas Hasan: The press say Jay Sean is, but every artist has their own soul. I am not here to copy any one but I have my own perspective.
Amer: How do you see the world of Hindi cinema?
Abbas Hasan: I see that world as being very interesting, as is becoming very experimental.
Amer: Who were your idols as you were growing up?
Abbas Hasan: Every one from Nusrat Fateh Ali Khan to David Bowie to Prince. Any artist that was not afraid to express them selves and try and push the boundaries out.
Amer: Are you taking the film route to become a film star?
Abbas Hasan: I am an artist and if a film script inspires me, I will act in it..
Amer: Who would you have liked to work with musically?
Abbas Hasan: Nusrat Fatel Ali Khan and Michael Jackson..
Amer: How difficult has the transition from model to pop star to film star been for you?
Abbas Hasan: It has been a lot of hard work , and as a journey a very natural one.
Amer: How does it feel being called a heart throb?
Abbas Hasan: It feels very exciting and flattering.
Amer: What is your message to all your fans?
Abbas Hasan: I have the best fans in the world and I love hearing from them. All of them continue to inspire me to do bigger and better.